Neel / Phobos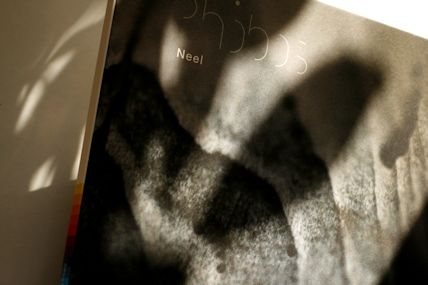 Release Date: November, 2014
衛星フォボスからの声
Donato Dozzyと共にVoices From The Lakeというアンビエントプロジェクトを担っているNeelによるソロアルバム。彼は、DJ、プロデューサーでありながら、マスタリング・エンジニアとしても有名で、Rabihi BeainiやAbudulla Rashimなどのマスタリングを手掛けているらしい。
このアルバムはその名のとおり、火星の第一衛星「フォボス」に降り立ったときの感じをイメージして作られたスペース・アンビエント作品と言える。各曲のタイトルにある地名はフォボスに
実在する地名
だ。まず、1曲目では、フォボスに降り立つまでを表現した曲で、宇宙空間の塵が鉱物の砂のようにチリチリと飛び交う音が聞こえ、遠くの重い重力の主に向かって航行する感じが体感できる。広い宇宙空間の中で、あらゆる磁場や得体の知れない障害物に遭遇しながら、宇宙遊泳をしているイメージだ。やがて、遠くから黒い雲が押し寄せ、電磁場が取り巻く空間を埋め尽す。目前で光る粒子が転がり、足元ではミクロな虫がうごめいている。次第に粒子がチラチラ舞うだけの静寂が訪れるが、一瞬、鉄のドアが閉じるような音がし、電子昆虫が飛び交う中、工場の営みが彼方から聞こえてくる。そして、ゆっくりと重力の軌道に乗り、宇宙塵が顔に当たるのを感じるようになり、電磁束も刺さるように飛んで来るの。地平に太陽の光の細い筋が見えるが、重力がどんどん強くなり、遂には重低音のビートが耳の中を通り、脊髄にまで届く…。
このように、このアルバムは単に静寂で時間を埋めたり、ありがちなイメージの環境的なアンビエントというものではなく、3DのハリウッドSF映画「ゼロ・グラヴィティ」のような、ヴァーチャルリアリティに近いレベルの奥行と感触を音響的に表現している作品のように感じる。彼のマスタリング・エンジニアとしての力量があってこそのVR音響作品だ。
Voices from Phobos
This is a solo album of Neel known as a partner of Donato Dozzy in an Ambient project, Voices From The Lake. He is not only known as a DJ / producer, but as a mastering engineer who have worked for various artists such as Rabihi Beaini and Abudulla Rashim.
The album is a Spacy Ambient piece which expresses how it would be like landing on the first satellite of Mars, 'Phobos'. You could find the
actual names of the landscapes
found in the satellite are being used in the titles of the tracks in the album. The opener is like expressing the event of landing on the satellite; you would hear Space dusts fizzling like sands of ore and find yourself approaching towards some matter possessing a heavy gravitational power. It is like drifting in a vast Space dimension, and will often be influenced by electronic magnetic fields and also encounter with unknown Space materials floating around. Then, gradually a dark cloud from afar starts spreading towards you, finally filling up this magnetic field with a dark cloud. Blinking light particles roll right in front of your eyes and microscopic insects crawl by your feet. The silence only exists here with falling particles in the air, until you hear a metallic door shutting behind you. Then electronic insects start to buzz around you, while cold factory sounds start roaring somewhere far away. You would slowly ride on a gravitational orbit, and then start to feel Space dusts hitting in your face and eletro-magnetic flux stinging in to your body. Thin streams of the sunlight gleam at the horizon, but you would start to feel a large gravity which makes heavy bass beats run in through your ears, then finally penetrating your spinal cord...
This way, the album does not consist of mere time-filling silent tracks or environmental ambient tracks of common imageries, but of tracks which express virtually real dimensions and tactile sensations, somewhat like which reminds me of a 3D Hollywood film, "Zero Gravity". I should say that Neel being a mastering engineer, has made it possible technically to actualize such sonic piece of VR.
スポンサーサイト